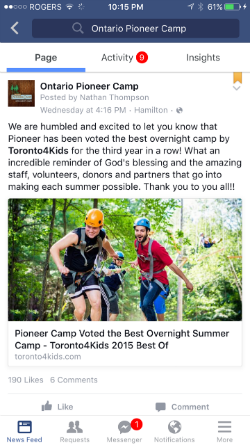 You can put together the best campaign with the most compelling messages and images, but nothing beats someone else coming along and saying something like: you know what, you're the best at what you do. It's even better when they do it three years in a row.
Kind of like Toronto4Kids has done with our friends over at Ontario Pioneer Camp (OPC).
For the third year in a row, OPC has been recognized by Toronto4Kids as the best overnight camp in Toronto and the GTA (Greater Toronto Area).
We are so pleased for OPC, and thankful to have worked with them over the past four years to re-establish and build out their brand image.
As I've said on this blog many times before, you can't advertise your way out of a bad product and that's what makes working with organizations such as OPC so great. When the organization is committed to consistently refining and improving its offering, it not only makes the development of a great brand easier, but it just plain makes it possible.
Just take a look at the brochure that we designed for 2016. All of the images are authentic images that we took of camp life over the past few years and they are an accurate depiction of what camp at OPC looks like.
Simple. Authentic. Effective.
Congratulations to OPC for this honor! Keep up the great work.