Posted by Andrew VanderPloeg
It is my great pleasure to share with you the new brand image for UrbanPromise Toronto!





Over the past 5 months our team has been working together with the team at UPT to bring cleaner and clearer messaging to the UrbanPromise Toronto brand.

When the UPT and Radiant teams met for the first time, it was clear that there was quite a bit of work that needed to be done. The organizations logo, colors, collateral, imagery and website all needed to be updated, but the first step before all of that was the most important. Brand clarity.

Our teams worked together, sifting through marketing materials, images, content, vision/mission statements and content to refine the information and come to a focused understanding of who UrbanPromise Toronto really is. One particularly helpful resource was their mission statement:
"UrbanPromise Toronto exists to proclaim the love of Jesus, and to express it through the spiritual, social and educational development of children, youth and families living in Toronto Community Housing."
From their work, UrbanPromise Toronto knows that life is not glossy or perfect - it is gritty and real. The other thing that UPT knows is that the solutions to the reality and grit, aren't complicated. They are simply based on relationships and caring for people.

Equipped with that information, we started the design process and the first stop was the logo. The existing logo felt more like a collection of 4 distinct elements.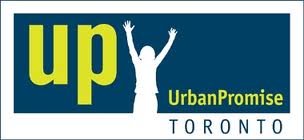 Old UrbanPromise Toronto Logo
So we set about trying to understand which of those elements were needed, which weren't, and what might be missing. From those conversations, we identified that we needed to do three primary things:
Unify the logo elements
Reinforce "where" UPT serves, namely, Toronto
Get away from any risk of being misidentified as "UP" (the organization has never referred to themselves that way)
One of the primary concerns with the redesign was that we didn't want to lose existing brand recognition. Thankfully, a number of the critical elements of the existing logo remained as strong identifiers for the ministry, so we had an excellent base to ensure that recognition wasn't lost. We also essentially maintained the existing color palate and as such, ensured a strong, immediate visual connection. The new logo acts as a unifying mark for the organization. It contains the name and conveys the critical parts of the mission of UrbanPromise Toronto: bring joy and hope to youth (the child with reaching hands), the City of Toronto (iconic cityscape in the background) and of course, the name of the organization. The youth involved in the UrbanPromise Toronto programs are excited to be there and that excitement and energy are reflected in the design and color palate.

The next projects to tackle for the organization required a new look in terms of photography. The imagery used in the past was good quality and were authentic, but for the most part, they didn't capture the greater context of where UrbanPromise Toronto serves. The photos needed to continue telling the story of people's lives being impacted through relationships and opportunities, but tell that story in context of the environment in order to tell more of the full story. Radiant undertook the challenge of capturing that imagery and what you'll see on the website today is the result of that work.

Which is a great segue to the website!

The website, which launched today, was designed and built on the Radiant WebTools platform. The design was simple, clean and visually focused on the photography that Radiant captured while touring the three inner-city locations where UrbanPromise Toronto serves. Textually, the goal was to communicate important information succinctly and powerfully so that any audience could access the information they need when looking up UPT. We've built the site so that it functions well in both browser-based and mobile-based devices and allows UPT to watch, learn and manage their site well to move with the needs of its audiences.

In addition to all those great elements coming to life in their marketing materials, we're really excited that the relationship is ongoing with the UrbanPromise Toronto newsletter, e-newsletter and brochure all coming in the next few months.

We encourage you to learn more about UrbanPromise Toronto by reviewing their site at www.urbanpromise.com and / or connecting with them on Twitter, Facebook and YouTube (see info below for these). In all those locations you'll learn about how they fulfill their strategy of: Reach a Child. Raise a Leader. Restore Community.

Twitter @UrbanPromiseTO
Facebook UrbanPromise Toronto
YouTube UrbanPromiseToronto