Posted by Andrew VanderPloeg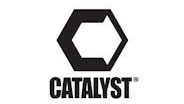 Hot on the heels of the NAMIC and NYWC San Diego conventions, we've got a strong contingent of our team that's on the road, right now, heading down to Catalyst Atlanta.
Catalyst is a highlight conference for us as it's such a big event and offers so much opportunity for our team to connect with great people in attendance and the big names that are involved in running and contributing to the conference.
Amongst all that, we're especially excited to touch base with our friends at Georgetown First Assembly of God who won last years branding scholarship and to feature the work that we've been doing with them ever since!
If you're heading down, over or up to Atlanta yourself, come by our booth and say hi! We might even have a little something for you to take home with you!