Posted by Andrew VanderPloeg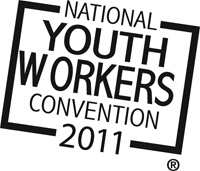 Earlier this week I highlighted the fact that Mark Morrison is going to be at NYWC San Diego this weekend. As he's travelling in to the convention today, we wanted to highlight that one of the big things we're hoping to get out of this convention is the opportunity to connect with organizations that are doing great things for the gospel and doing them with excellence and creativity. Here's a few that we'll be trying to track down as each of them has impacted us with their ministry and the way they market themselves.
Compassion International - Compassion is known to be an organization that understands the concept of branding and employs it well. From their website to their print materials, even down to how they communicate in person, it's all structured to ensure that everything communicates the consistent and clear message of "Releasing children from poverty in Jesus' name."
Ponderosa Pines Christian Camp - Ponderosa Pines, or Pondo as they are more commonly known, has actually been a client of ours for about 5 years, but due to the conveniences of the Internet, we've never actually gotten face-to-face with them. So we're excited to connect with them at NYWC and to touch base with a Christian camp that values quality communications as a part of their marketing strategy. You can check out the website we've built for them at: http://www.pondo.org
International Justice Mission - If you track with us regularly, you'll already know that we're fans of IJM. While some of us support them personally, we also have done work with IJM Canada and as such, we end up keeping up-to-date on their work and communications around that. So, given that a new, great-looking, IJM International website was launched recently, we're excited to talk to them to learn about that initiative and the success it's bringing them.
Beyond those three highlights, there are a number of other organizations that we're looking to get some time with, not the least of which is the crew for Youth Specialties! Having developed all of the pre-convention marketing pieces for NYWC San Diego and Atlanta, we're looking forward to connecting with the people we've been working with for 8 months now!
So stay tuned to this blog and our Twitter feed because whatever we learn from these organizations, we'll be sure to share in text and video as we have it.