Posted by Andrew VanderPloeg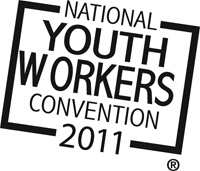 This coming weekend (Sept 30-Oct 2) is the San Diego installment of the National Youth Workers Convention and while we won't have a booth at this convention, there will be a few different ways in which we're going to be involved:
First off, all attendees will get a special gift from us as part of their registration bags.
Second, if you're in attendance, you'll see our branding around the convention in the form of slides and standing banners.
Third, there will be a video featuring our very own Mark Morrison prior to a big room session.
And last but not least, Mark is going to be on site connecting with a number of people and you might have a chance to do so yourself so if you're at the convention, keep your ears peeled for where to find Mark.
For all of our youth leader friends who will be attending, we are praying that you are blessed by this convention. To our friends at Youth Specialities and Youth Works, we wish you all the best as you run this convention and equip those who pour their lives into youth.