Posted by Andrew VanderPloeg
You may remember that last year at Catalyst Atlanta, we gave away a $25,000 scholarship. The scholarship was for a branding package that we've since been working on for the winner, Georgetown First Assembly of God (GFA).
Back in January, three of our team went down to South Carolina to spend some time with the great folks at GFA and they came back ready to tackle the project. You can catch up on those posts here:
GFA Trip - Day 0
GFA Trip - Day 1
GFA Trip - Day 2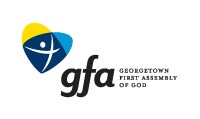 Since those days in early 2011, we have been working with the team at GFA to develop their brand and while we're still in process on some of the items, today, we wanted to share the new GFA logo as a first step in rolling out their brand.
We're so excited to start seeing this brand begin to take shape and working with team at the church has been outstanding.
Stay tuned in the coming weeks as we continue to share more and more in the run up to Catalyst Atlanta.