Posted by Ray Majoran
If you integrate Twitter into your Radiant WebTools website, please read this important bulletin.

Recently, Twitter made a change to the way that they allow products and services (like ours) to integrate live Twitter feeds into your website. Because of this change, a number of users have reported frequent "Twitter service not available" messages.
After a number of days dealing with Twitter (and many hours of coding), we are pleased to report that everything is back up and running again.
That said, due to Twitter's policy changes, we/they now require you to officially authorize Radiant WebTools to use your Twitter account. To do this:
Login to your Radiant WebTools account.
Click on "My Content" (located at the top of the page).
Click on "Edit My Twitter Settings" (in your content list).
Click on the "Authorize" link and follow the steps from Twitter.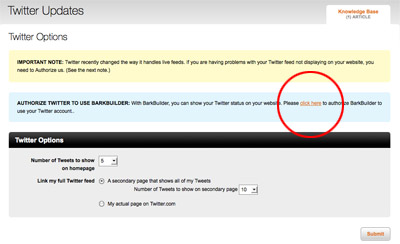 Once this is done, everything will be working again.
We've also made some substantial improvements to the way that we get your Twitter feed. In the past, if Twitter ever went down you would receive a message stating that the Twitter service is unavailable. From now on if Twitter goes down, we simply revert to your last known Tweets, making it seamless for those visiting your website.
If you have any questions or have problems authorizing your Twitter account, simply submit a Support ticket and we'd be happy to assist.