Posted by Ray Majoran
Quadruple Hippopatumus Express!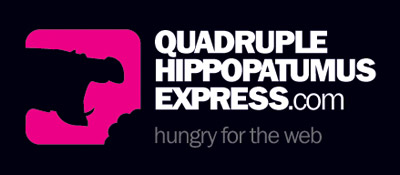 You can even view the new logo on our website at www.QuadrupleHippopatumusExpress.com.
We're kidding, of course. But earlier in the week when we made the announcement that we were going to be changing the name of Electricurrent and AdvancedMinistry, one of our long time friends and customers, Jelani Greenidge noted:
"As long as the quality of the product is just as good, you can call it Quadruple Hippopatumus Express, and I'll still be all up in that."
Well Jelani, today you've got your wish... sort of. :)
Thanks to everyone for all of the positive feedback and exciting comments we've received. The official name will be announced next Friday, June 17. Until then, you can call us Electricurrent & AdvancedMinistry... or Quadruple Hippopatumus Express. It's up to you.