Posted by Andrew VanderPloeg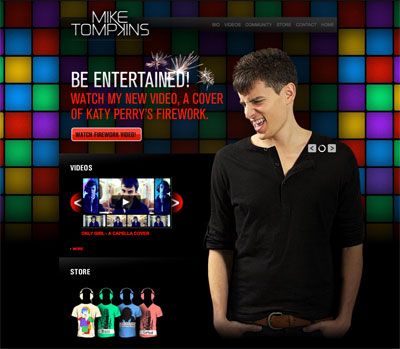 Today, I'm very excited to announce the launch of the new Mike Tompkins logo and website, brought to you by…us!

For those of you who don't already know the name, Mike Tompkins has become a YouTube sensation in the past year. You can check out his YouTube channel here: www.youtube.com/user/pbpproductions#p/a.

His videos, which feature him covering pop songs by only using his voice and mouth, started out as funny videos that went viral. Over time, Mike was noticed by Perez Hilton for his medley cover of Katy Perry's Teenage Dream and Bruno Mars' Just The Way You Are and once Perez posted a shout out to Tompkins on his blog, the whirlwind began! Mike flew out to be on the Today Show and The Ellen Degeneres Show where he learned that they had arranged to connect him with famed music producer and artist, Timbaland. While all that was happening, the Teenage Dream/Just The Way you are cover continued to take more and more hits and today, is nearing 10 million views.

While lots more has happened, last night was a big night for Mike and us.

As Mike was in Texas at SXSW (the South by Southwest Conference) launching his newest cover, Firework, by Katy Perry, we were busy ensuring that the moment his new song launched on YouTube, his brand new website featuring his brand new logo was launched. But I should also mention that the reason Mike launched his newest song in Texas was because that song was also used in Microsoft's launch of Internet Explorer 9! Users with IE9 installed, can use the IE9 launch website to play with the tracks of Mike's latest video and create their own version of the song and then share it on their Facebook and Twitter profiles. You can check that out at: www.beautyoftheweb.com/firework.

These are exciting days for us! We are so pleased to have the opportunity to manage Mike's brand and we wish him great congratulations on a momentous day yesterday!

Stay tuned for more...