Posted by Ray Majoran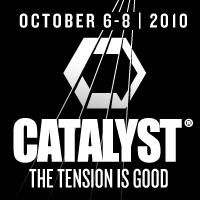 We've drawn the name of our 2010 Catalyst Grand Prize Winner for the Brand Scholarship worth over $25,000... BUT we're still trying to get a hold of them. The receptionist at the church said that they were currently unavailable... so stay tuned! :) Once we get a hold of them, we'll make the announcement!
About the scholarship: The prize was recently made available at the 2010 Catalyst East conference held in Atlanta, GA. Electricurrent (the parent company of AdvancedMinistry) is going to fly a team to the winner's church/ministry to meet with them. The full prize includes a brand and communications audit, marketing strategy, brand development (logo, stationery) and a custom-designed AdvancedMinistry website.
Stay tuned!