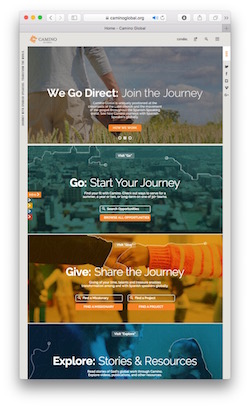 They say the third time's a charm, but that presumes that the first two times didn't go smoothly, which has not at all been our experience with Camino Global.
In fact, each project that they have entrusted to us (2006 - Website & CMS, 2011 - Rebrand w/ Website) has been an absolute pleasure and a resounding success, serving the ministry and garnering recognition from both the Webby and Davey Awards.
So when Camino Global came knocking late last year, with a willingness to have us, once again, push the envelope on design to create a really powerful story-telling experience for desktop and mobile platforms, we jumped at the chance.
This time, however, the project included the opportunity to work with the team at SiteStacker, as they took the designs we created and made them function on their platform, integrating the new web experience we designed with their online giving, content marketing, worker recruitment, and non-profit CRM, creating a seamless experience for both Camino Global staff and it's constituency on the organizational website.
Of course, it's always an incredible blessing to be entrusted to push the envelope for a ministry and to work with a team that truly comprehends and seeks to develop powerful branding experiences. But this unique opportunity to work effectively with two teams (Camino and SiteStacker) was an excellent experience.
We're very proud of this part of our story with Camino Global and once again, so very thankful for the trust they placed in us to design this latest online presence for them.
You can see the full case study of our combined labour at https://www.thinkradiant.com/our-work/camino-global/.